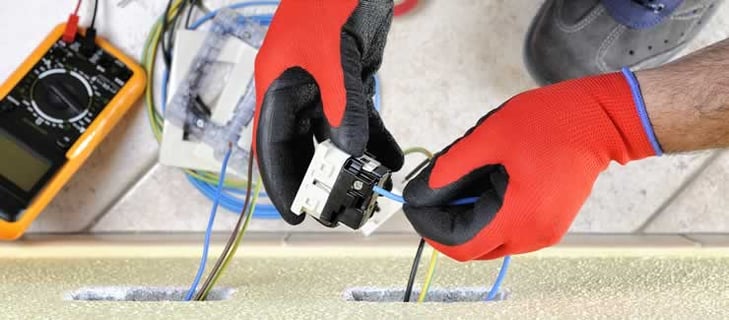 The Institution of Engineering & Technology (IET) has now confirmed that the 17th Edition Wiring Regulations will be updated and a new 18th Edition course released. Since the announcement we've been inundated with questions from confused electricians and electrical contractors who want to know exactly what the announcement means to them and whether or not they'll have to undertake 18th Edition training.
To help you work out your next steps, we've compiled a comprehensive list of the top questions and answers here:
What are the 18th Edition IET Wiring Regulations?
The IET co-publishes the electrical Wiring Regulations alongside the British Standards Institute (BSI) and is the authority on electrical installation.
BS7671 of the IET Wiring Regulations sets the standards which apply to the design, erection and verification of electrical installations, as well as additions and alterations to existing installations, in the UK and many other countries. By following the guidance and regulations of BS7671, you can ensure that your work meets the requirements of the Electricity at Work Regulations 1989.
When is the 18th Edition due to be released?
The anticipated publication date of the 18th Edition is July 2018, however the design of electrical installations are not required to comply to the 18th Edition until January 2019.
How does this update affect me?
The main thing is that all installations designed from January 2019 onwards comply with the new regulations. This means that from July 2018 you'll have 6 months to undertake 18th Edition training and ensure you're up to date on the regulations by January 2019.
What's changing from the 17th Edition?
Currently, no-one is 100% certain as to what the changes will be, however DTL have received word that the following sections will be updated:
Protection against over voltages - Clause 443 is likely to be overhauled.
Both IEC and CENELEC have published updates concerning over voltages. It is also apparent that protection against transient over voltage will be significantly changed in BS7671. Protection would have to be provided where the consequences affect human life, public services and commercial &/or industrial activity. Risk assessment will need to be made as to whether protection is required having considered the potential human and commercial consequences of no protection.
Protection against fire - Chapter 42 concerns protection relating to fire caused by electrical equipment.
BS7671 will include regulations concerning the installation of arc fault detection devices.
Electrical Embedded heating - Section 753 will be extended to include embedded electrical heating systems for surface heating, and will include de-icing and frost prevention systems.
Revisions will include regulations relating to the protection against the effects of overheating caused by electrical short-circuits in embedded units and relating to harmful influence between the heating system and other electrical and non-electrical installations.
Energy efficiency - There will be a brand new Appendix (17) covering energy efficiency.
This new section will cover several energy efficient areas including electric vehicles, lighting, metering, cable losses, transformer losses, power-factor correction, and harmonics. Most of this will not be applicable to domestic dwellings.
Will I have to install electrics to 18th Edition standards from July 2018?
The 18th Edition is released in July 2018, but you will not be required to install to the new regulations until January 2019.
I've recently taken 17th Edition, 3rd Amendment training - do I need to take an 18th Edition training course?
All installations designed from January 2019 onwards must comply with the new regulations. It is important that all professionals working in the electrical industry are able to demonstrate a level of understanding and awareness of the changes to these electrical regulations in order to remain compliant. Therefore, we recommend that so long as you've taken 17th Edition, 3rd amendment training within the last six months then you should take our one-day 18th Edition refresher course. If it's been over six months then we recommend that you sit the full three-day 18th Edition course.
Is a refresher course available, or do I need to take the full 18th Edition course?
Some providers, including Develop Training, are offering a refresher course - view our one-day refresher course here.
Can I just take an exam for the 18th Edition without taking a training course?
We are not offering an exam only service. Due to extensive updates and changes, we highly recommend completing the 18th Edition course when it is released.
What are the courses, and prices, offered by Develop Training for 18th Edition?

Click here to download our handy PDF containing everything you need to know about the 18th edition