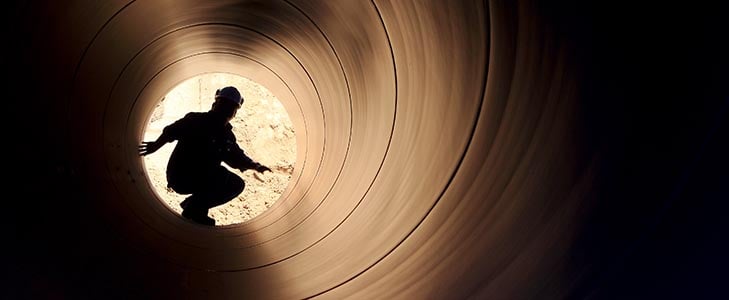 Regulations can be confusing, frustrating and difficult to understand; particularly when concerning confined spaces. The definition of a confined space is broad and can lead to a grey area that poses several risks for the safety of workers and the potential for large fines if regulations aren't adhered to correctly.
What the law says
The Confined Spaces Regulations of 1997 contain the following three key duties:
Avoid entry to confined spaces where possible, e.g. by doing the work from the outside
If entry to a confined space is unavoidable, follow a safe system of work
Put in place adequate emergency arrangements before the work start
Safe system of work
Before any work in confined spaces takes place, a suitable and sufficient risk assessment must take place; click here if you are unsure of the definition of a "confined space".
There is often confusion as to whether there are any specific hazards within an environment, but therein lies the problem, just because there are no known hazards doesn't mean that they don't exist.
A correct risk assessment involves identifying all of the potential hazards that are present, and from this, all risks can be assessed and safety precautions can be determined.
The following areas should be considered:
The task and the environment
The suitability of employees
The working environment
Working tools and materials
Arrangements in case of emergency
The task itself
If your assessment identifies any risks of injury, the Confined Spaces Regulations outline several key duties:
If possible, avoid entry to confined spaces environments. Check if there is any other viable way for the work to be completed, a different approach (such as working from the outside) can reduce the need for confined space work. Pose the question as to whether the work is necessary at all or consider modifying the space itself so that entry is no longer required.
If entry is unavoidable, follow a safe system of work. Use the results of your risk assessment to identify all possible precautions in order to reduce the risk of injury. This system must be identified and put into practice and everyone involved will need proper training and instruction. Which of course, we can assist with, you can see our confined spaces training courses here.
Suitability of employees
As well as the general training for all employees, you may need to appoint competent people to help you manage the risks. Furthermore, supervisors should be given responsibility to ensure that the necessary precautions are taken, to check safety at each stage and may need to remain present while work is underway.
Working tools and materials
PPE in such environments is a given, but in some cases the use of additional signage and special emergency communication tools and electronic sensors will be necessary. Workers will also need to be mindful of introducing a hazard within the space, such as flammable and aerosol like materials.
There should always be training on how to use all rescue and resuscitation equipment.
Arrangements in case of emergency
Regulation 5 of the Confined Space Regulations states: "... no person at work shall enter or carry out work in a confined space unless there have been prepared in respect of that confined space suitable and sufficient arrangements for the rescue of persons in the event of an emergency, whether or not arising out of a specified risk."
Having a rescue team present at every confined space entry is not a legal requirement. However, it is a requirement to have both suitable and sufficient emergency arrangements in place.
Your arrangements should be aligned with the level of risk. They should be suitable, sufficient and in accordance with current best practice.
These arrangements may include:
Self-Rescue - for a very low risk entry, this may include the use of gas detection equipment and escape breathing apparatus which gives the wearer sufficient air to evacuate.
Non-Entry Rescue - for a vertical entry where the entrant does not traverse and will not become entangled, this may include the wearing of a harness connected to a mechanical device capable of lifting a casualty out of the space.
Casualty Extraction - for an entry where there's no risk of a hazardous atmosphere, a casualty extraction team can recover a casualty who has become ill or injured.
Rescue Team - will be more appropriate for an entry where there is a reasonably foreseeable risk of a hazardous atmosphere.
Confined Space Seminar
DTL is pleased to announce we'll be hosting our latest Confined Space seminar in Scotland this June.
Following successful outings in York and Swindon last year, we're taking the event on the road and our first stop in 2016 is north of the border. You can book online right now to join us at the Stirling Court Hotel at the University of Stirling on Tuesday 28 June 2016.
City & Guilds-approved
We've designed the seminar specifically for individuals looking for a theoretical awareness of confined spaces in the context of the Confined Space regulations, 3rd Edition. The event is approved under the City & Guilds Frontline Skills Framework 5831 scheme and, where required, can include City & Guilds certification.
As you may have read in our free-to-download whitepaper on confined spaces, they claim the lives of as many as 30 people in the UK each year. Anyone, in any industry, can be exposed to working in such conditions, often without realising it. It is vital people are aware of the dangers so they can manage the associated risks as accidents occur more often when workers have little or no knowledge about confined spaces.
The seminar will cover:
Confined Spaces Legislation
Identification with Confined Spaces
Interactive workshop
Mobile confined spaces training unit demonstration
Q&A

Click on the button below to book your place:

Training courses
DTL offers many Confined Space Training Courses and can offer the reassurance that operatives, supervisors, managers and authorised persons working in confined spaces will be trained to the highest and safest possible standards. We can provide:
Introductory Courses
Working in Confined Spaces
Supervising Work in Confined Spaces
Managing Confined Spaces
Implementing Safe Systems of Work
Specialist Confined Space Courses
Mobile Confined Space training
For more information on any of these areas,
please call one of our advisors on 0800 876 6708 or follow this link.