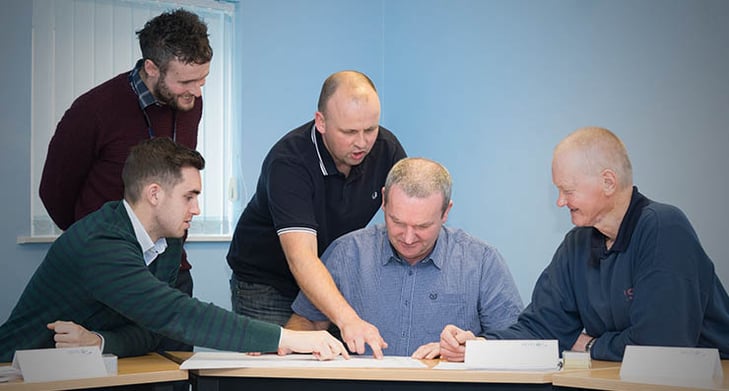 We've all seen it happen – a colleague who is good at their job gets promoted into a management role, only to struggle because their management and people skills are not up to scratch. Although many managers have vast experience within their sector or industry and are excellent at the technical aspects of their jobs, they may never have received any specific training in how to be one.
While it's true that you develop management skills through experience, training in this challenging role is vital in order to get the best from your team.
It's not just about performance, but how we work with others
Poor management is often blamed for high staff turnover and, to prevent this happening, the improvement of essential management skills, be them business writing and communication skills, team development or crisis management, is crucial. In the workplace, we get measured not just on performance, but on how we work with our colleagues and the way we treat our customers. Good communication skills are the cornerstone of stakeholder management and hugely important when driving quality im-provements and effectiveness of service across a team or an entire company.
We think companies, across all sectors, must provide comprehensive and practical management development training to employees, especially for those transitioning from operative to supervisor and supervisor to manager.
Bringing tools and techniques to life
At DTL, our range of engaging, hands-on management skills workshops incorporate individual and group exercises which bring the tools and techniques to life so they can be applied in the workplace.
MaTE (Managing a Technical Environment) is an innovative, interactive and engaging programme endorsed to Level 3 by the Institute of Leadership & Management (ILM). It combines theory-based training sessions, focusing on essential people skills that help delegates foster an understanding of key management techniques and their practical application in the workplace.
What makes the MaTE Programme different? It takes theory and puts it into practice within a controlled environment that reflects the delegates' workplace and everyday situations they encounter with staff and customers. The programme includes real-play scenarios, with trained actors portraying work situations in a real working environment. This enables the content and duration of the programme to be honed so that it closely matches the needs of the organisation and delegates.
The skills delegates learn while undertaking a MaTE course are highly transferable, helping them to be more effective in their role, adding value as a result.
In addition to the MaTE Programme, DTL also offers various management development training courses including Institute of Leadership and Management (ILM) qualifications, ideal for individuals who have management responsibilities but have had no formal training.
DTL's City & Guilds-accredited Training, Assessment and Quality Assurance (TAQA) programme develops the skills and knowledge for competence in the workplace. For those who carry out assessments within their organisations, these professional qualifications develop and improve their practice.

For those working within an office based environment, the Applied Interactive Management Skills (AIMS) courses are designed to progress and support individuals from a variety of backgrounds and industry sectors, increasing their management and communication skills.
DTL also offers diversity training programmes for companies with diverse workforces and/or a diverse client base. These provide delegates with a clear understanding of what the company's expectations are for working and interacting with people that are different from themselves.
See also: