---
The 17th Edition Wiring Regulations 3rd Amendment released in January 2015 requires all Installations designed after the 1st July 2015 to comply with the latest changes to the regulations.
Please note, the 18th Edition Wiring Regulations is now available. Click here to find out more.
Electrical contractors will need to hold a copy of BS 7671:2008, incorporating 17th Edition amendment 3, for any assessment visit that is taking place after the 1st July 2015. So, the clock is ticking for over 100,000 UK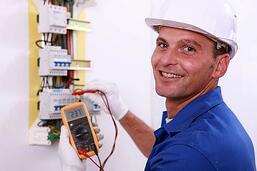 electrical contractors to get up to date with the latest changes.
It is therefore extremely vital that electrical contractors purchase a copy of the new 17th Edition Wiring Regulations – 3rd Amendment book (Yellow). It is also crucial that engineers have a sound understanding of the changes in order to comply with these mandatory requirements.
You can buy a copy of the book here – click here
Compliance is essential here, so how clued up are you on the latest amendment? See below for our summary of the top 10 key changes to the 17th Edition Wiring Regulations, as part of 17th Edition amendment 3.
Don't forget, the 18th Edition is due to be released in July 2018: click here to view our FAQ's and to understand how it will affect you.
---
1. New numbering system
The regulations will be identified by a new numbering system. Regulations with a .100 number are CENELEC requirements and those with a .200 number are specific to the UK.
2. Part 2 definitions
Definitions will be expanded and modified. The definition of competent persons will be removed and replaced.
3. Chapter 41 - Protection against electric shock
There will be a requirement for RCD protection for socket outlets up to 20A for all installations, with the exception of when a documented risk assessment determines that it's not necessary.
4. Chapter 52 - Selection and erection of wiring systems
New regulation 521.200 has been included giving requirements for the methods of support of wiring systems in escape routes, to help with the dangers to the fire forces. The regulations concerning selection and erection of wiring systems have been re-drafted.
Tables for Maximum Zs values, (41.1-41.4) have been adjusted to allow for the new Cmin factor which takes into consideration the variations to supply voltages. In addition to notes being changed in connection with maximum permitted operating temperatures.
5. Chapter 51 - Common rules
Section 551 concerning compliance with standards requires all equipment to be suitable for the nominal voltage and also requires certain information to be noted on the electrical installation certificate.
6. Chapter 42 - Protection against thermal effects
Regulation 421.1.200 has been added and requires switchgear assemblies including consumer units installed in domestic premises to have their enclosure manufactured from non-combustible material or otherwise suitably installed. The implication of this change will be that most consumer units in domestic premises will be metallic.
7. Chapter 55 - Other equipment
A new section 557 Auxiliary Circuits is included. All auxiliary circuits are defined in Part 2.
8. Chapter 550 - Luminaires and lighting installation
Requirements for outdoor lighting installations and extra-low voltage lighting installations have been moved to new sections 714 and 715 respectively.
9. Part 7 - Special installations or locations
Section 701 locations containing a bath or shower. There is a requirement for all low voltage circuits serving or passing through the location to be RCD protected.
10. Appendix 6 - Model forms for certification and reporting
The schedule of inspections (for new work only) has been replaced by examples of items requiring inspection during initial verification (which must be appended to the Electrical Installation Certificate).
---
It is advised that electrical contractors spend the grace period familiarising themselves with the detail around all of the above changes, and understanding what the 17th Edition 3rd amendment means to them.
Develop Training has created a 1 day 17th Edition Amendment 3 Workshop to help all concerned get up to date with the Amendment 3 changes. Bookings are now being taken for the course, with dates running from as early as February 2015. Find out more and book online here
This one day update is recommended for anyone who has attended a full 17th Edition Wiring Regulations course. For those that are new to the profession, it is advised that they attend the full course, which also includes the changes covered in 17th Edition Amendment 3.