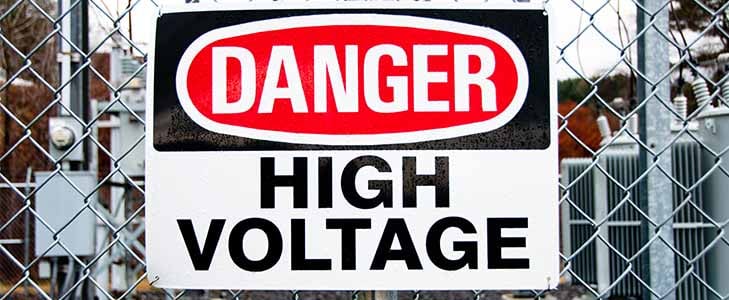 If you have any form of managerial or supervisory responsibility within high voltage electricity, it is crucial you ensure everyone knows how to work safely, minimising risk, and are aware of the relevant safety rules and procedures.
System of rules and procedures
Managers and supervisors should be involved in work planning and risk assessment from the outset, and at every stage throughout the process. Any manager or supervisor in the electrical field needs to ensure a safe system of rules and procedures is set out whenever work is to be carried out.
These should be written down clearly and anyone involved in the work needs to be made aware of them, as they form the basis of a task-specific risk assessment.
Methodical approach
The amount of detail in these procedures typically depends on the type of work at hand, but with complex high voltage systems, there should be a methodical approach so that all safety principles can be clearly understood by everyone, leaving nothing to chance.
All safety rules should set out general practices clearly and succinctly, and all those carrying out electrical work should keep a copy of the rules with them.
Clearly define roles
There should be a clear management structure within the workforce. All supervisors and workers must have their responsibilities clearly laid out - including those of outside contractors - ensuring all personnel are suitably qualified and experienced for the specific nature of the work.
All supervisors must be competent and the level of supervision needs to be appropriate for the level of danger associated with the work AND the competence of those carrying it out. Even the most highly qualified individual may not be competent to carry out specific types of work without the relevant training.
Appropriate training for the task at hand
Anyone who does not have the required level of competence will require either a greater level of supervision or the appropriate training.
To avoid unnecessary risks, workers must be aware of their own limitations and be comfortable asking for help, should they need it. Unauthorised, unqualified or untrained people should not be allowed to work on electrical systems at any point.
Unforeseen changes
If something unforeseen occurs, there should be an immediate review of the work at hand. Even competent workers may not know how to act when something goes wrong, particularly with something as unpredictable and dangerous as electricity.It will therefore be crucial that all workers know to report any changed situation up the management chain for further instructions.
If an accident is to happen, emergency procedures must be clearly understood by all workers to reduce any further risk of injury.
Our courses
Develop Training offers engineers specialist high voltage electrical courses with accreditation from City & Guilds or EAL across all of our training venues nationwide.
DTL's high pass-rate courses are ideal for competent persons, authorised persons, engineers and managers, with responsibility for electrical high voltage and low voltage systems. All of our courses reflect the latest methods, practices and legislation and provide hands-on experience on specialist equipment.
Our experienced teams can also provide consultancy on safe systems of work and create bespoke programmes aligned to business procedures. Courses are suitable for all commercial sectors as well as healthcare, including the National Health Service and the Ministry of Defence.
We have courses in the following areas
Electrical LV
LV and HV Awareness and System Design
HV/LV Maintenance and Safe Working Procedures
Aeronautical Ground Lighting
Tailored Training Courses
View our full range of courses by clicking the button below:
DTL offers a large range of electrical courses for people of all skill-sets. Click here to see our range of courses. Alternatively, call our team on 0800 876 6708.