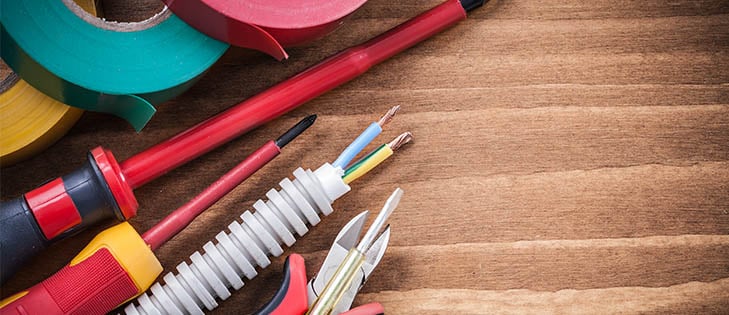 Electricity is dangerous, and any equipment must be properly designed, installed and maintained regularly so that any risks of fire, shocks or burns are managed. Depending on your industry, there are specific requirements that will ensure that all dangers are controlled.
For low voltage systems, the main standard is BS7671, which you can read about here. It explains how to safely design, construct and install electrical systems to be completely safe to use. This standard covers any installation that operates at less than 1000V, anything above that is classed as HV (high voltage).
Basic knowledge
Some equipment may operate at a voltage so low that shocks will not be an issue; however, burns can still result from overheated components and arcing. This can include self-contained sources of energy like batteries and smaller systems that may be deceivingly dangerous.
Only equipment suitable for the environment that it is in should be used. Damp or wet conditions have obvious dangers but the potential for damage in mechanical environments should be a factor also.
Similarly, explosion-protected equipment should be used in any location where there is the potential for an explosive atmosphere; this can be anything from a gas leak to a build-up of flammable dust.
Ageing equipment is a big issue in the industry; open-type switchboards were not designed to prevent contact with live wires and are renowned for shock and burn injuries. In these cases, sufficient knowledge is required to recognise any potential danger and avoid it. This type of equipment should only be accessed by those who are competent enough to use it.
Assess the situation
Before any work is carried out, you must assess the situation. Often, the components that are removed in order to undertake any kind of electrical work are usually the ones that are designed to protect people when the equipment is in use. Ensure that there is adequate space, access and lighting in order for the work to be undertaken safely.
Live work should only be undertaken when the Senior Authorising Person has confirmed that is it impractical, hazardous or ineffective to work otherwise. It is their responsibility to ensure that all workers are fully aware of the live conductors they could come into contact with.
Wherever possible, you must avoid live working during commissioning and fault-finding. You can do this by using suitably designed equipment with built-in test facilities.
Careful design
Careful design and selection is also a must, For example, switch disconnectors should have a means of securing them in the off position, and they should be suitably arranged so that circuits can be isolated without disconnecting other circuits that are required to continue in service.
All circuits and equipment should be installed so that all sections of the system can be isolated when needed and any devices used for isolating circuits must be clearly marked, showing their relationship to the equipment they control.
Our courses
Develop Training Ltd's (DTL) courses are ideal for Competent Persons, Authorised Persons, Engineers and Managers, with responsibility for Electrical High Voltage and Low Voltage systems. Our courses reflect the latest methods, practices and legislation and provide hands-on experience on specialist equipment.
Our experienced teams can also provide consultancy on safe systems of work and create bespoke programmes aligned to business procedures. Courses are suitable for all commercial sectors, as well as healthcare, including the National Health Service and, the Ministry of Defence.
Download our course calendar by clicking the button below:
DTL offers a large range of electrical courses for people of all skill-sets. Click here to see our range of courses. Alternatively, call our team on 0800 876 6708.